About Our Company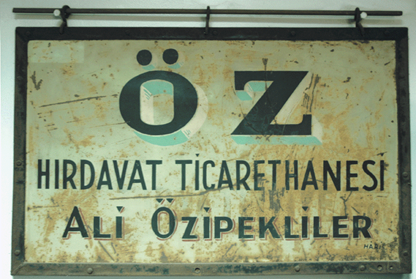 Since 1958…
Özipekliler Teknik Hırdavat Çelik San. ve Tic. Inc. hardware adventure Ali Özipekliler in 1958 A small hardware store under the name of Öz Hırdavat Ticarethanesi in Bursa's Bat Market. It starts with the opening of the shop. In those years, Bursa Kayhan Bazaar was also home to stove-makers and horse-drawn carriages. It was in the position of the industrial bazaar where it was located. Bat Bazaar is right next to Kayhan Bazaar. It was the center of trade.
Ali Özipekliler, who developed their business by buying various hardware items from importers in Istanbul and selling them in Bursa, moved to his own workplace on Çancılar Street in the same region a few years later. Ali Özipekliler, who took the regional dealership of Oerlikon welding electrodes by following the developments in the sector and introduced them to the tradesmen one by one, is known as the derlikon maker Ali. In the meantime, Özipekliler, who plans to open a rolling mill to produce transmission shafts, established a joint stock company with their friends and started to produce shafts in Bursa in the 1970s.
After the Tofaş and Renault factories were established in Bursa in the same years, industrialization in Bursa accelerated. Bursa Yıldırım Industry Bazaar in the region where Yıldırım Municipality is located now was the starting point of many factories at that time. Ali Bey moves his workplace to Elmasbahçeler, which is close to the region. Meanwhile, as a result of his friend being disabled in a work accident at the rolling mill, he moves away from his former activity. He died in 1976 as a result of a heart attack. Özcan, who was continuing his high school and secondary school education that year, was 16 years old and Özkan was 12 years old. After his death, the family decides to continue trading. With the support of friends and customers, Özipekli brothers continue their education and show a successful development in trade. In addition to welding materials and iron and steel types; Özipekli added cutting tools, measuring tools and hand tools to their range; It becomes the supplier of Bursa's leading industrial organizations in hardware products. With the growth of the business, sales activities start across the country. By trying to focus on power tools, they reach an important position in the power tools market throughout Turkey. After becoming a Black Decker dealer, it starts to wholesale Bosch Power Tools.
Afterwards, it is a distributor in Dewalt Power Tools' structuring in Turkey. Özipekliler is the supplier of leading hardware companies in Turkey. Özipekliler, who created the SEDEF brand in accessories as well as marketing the power tools of well-known brands, started to produce and market Electric Hand Tools in the 1990s. SEDEF is the first Turkish power tool brand.
The leading companies of the world in the field of power tools made investments in China in those years and carried out a significant part of their production there. SEDEF sets out on a similar path. First of all, instruments made with the SEDEF brand, which are decided upon as a result of extensive research, are presented to the market. However, although precautions are taken in every matter, reaching the desired level of quality is delayed.
After a while, it is understood that this job is to produce in person and the first production facility in China is put into use. The features of the tools preferred in the market are examined, these are evaluated and new models are developed.
A good team is established to make quality production. A lot of effort goes into this. Over time, as the team begins to work efficiently, SEDEF becomes capable of producing both in high quality and in high quantities.
Then, thinking a little more broadly, the second production facility starts to work. While both production lines compete with each other, they also support each other. Positive results are obtained as the products coming out of the production approach the desired level in terms of quality. The interest in the countries visited and the fact that SEDEF is the only Turkish company producing in the power tools sector prompts SEDEF to produce more responsibly.
Cologne hardware fair in Germany, Essen welding fair, Koln Interzum furniture accessories fair, Dubai Big5 construction fair in United Arab Emirates, Romania, Bucharest TIB fair, Atlanta IWF fair in America, Shanghai hardware fair in China, Ukraine window, New markets are sought with Syria construction, Greece furniture machinery, Ethiopia and Sudan fairs.
Republic Street in Cairo, Nasser Square in Dubai, Khomeini Street in Tehran, Industry Seccane in Khartoum, Mosato areas in Athens are some of the places scanned.
While very positive results are obtained from some of them, some hopes are not found. However, more and more SEDEF power tools are produced and sold in a wider geography.
Today, as SEDEF Power Tools, with its customers and services in many settlements of our country, in foreign markets such as Greece, Macedonia, Cyprus, Malta, Italy, Slovenia, Bosnia, Germany, Spain, Ireland, Romania, Bulgaria, Latvia, Russia, Ukraine